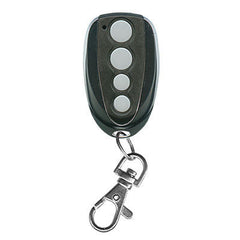 FAAC XT2 787007 / XT4 787452 Replacement Remote Control Transmitter Key Fob
The Tec-Multi is a 4-channel rolling code remote control that can be used with many of the top garage and gate automation systems around the world. The full list of supported models is detailed below. This is a great value, high-quality replacement or additional remote control.


The Tec-Multi pairs with your Faac receiver unit just like the original. Full, easy programming instructions are included. 
Specifications:
1x 433.92 MHz Rolling Code remote control for Facc systems
Battery and Key Chain included
Distance: Up to 100 meters
The Tec-Multi remote will also work with the following brands and models:
- ALLMATIC BRO1WN, BRO2WN and BRO4WN
- APRIMATIC TR2 and TR4
- BENINCA TO GO 2WV and TO GO 4WV
- BENINCA T2WK and T4WK
- BENINCA CUPIDO 2 and CUPIDO 4
- BFT MITTO 2 and MITTO 4
- DEA GENIE GREY
- DEA GENIE-R WOOD
- DEA MIO TR2
- DOORHAN
- ERREKA SOL2R and SOL4R
- ERREKA ROLLER4
- FAAC XT2 433 SLH and XT4 433 SLH
- GiBiDi DOMINO and AU1600
- NICE SMILO SM2 and SMILO SM4
- PUJOL VARIO 1 and VARIO 3
- PUJOL OCEAN